NEW MOON ON THURSDAY?!
"New Moon on Monday" was released in January of 1984 as the second single from SEVEN AND THE RAGGED TIGER. This month we'll look at some of the variations from around the world, starting with this 7 inch from the United Kingdom.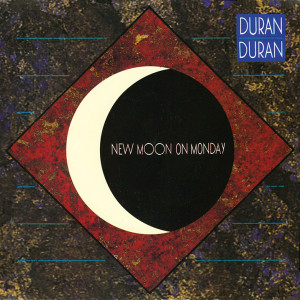 Here's its matching advert!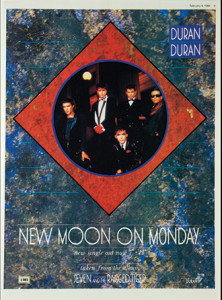 The B-side of "New Moon on Monday" was a remix of the instrumental "Tiger Tiger," which the band used as their intro during the SING BLUE SILVER TOUR, which started in Australia in November of 1983. This UK 12 inch features that remix.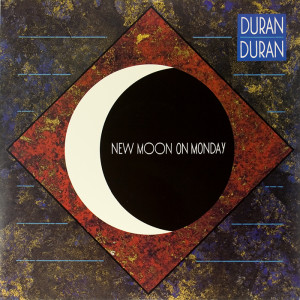 There weren't many 12 inches for "New Moon on Monday." Some are pretty rare, like this promotional SPECIAL DJ COPY from Japan. With a custom black and white cover, it features "New Moon on Monday" and Kajagoogoo's "The Lion's Mouth." In Japan, commercial 12 inch singles were rare, so most 12 inch releases are one-sided promos like this.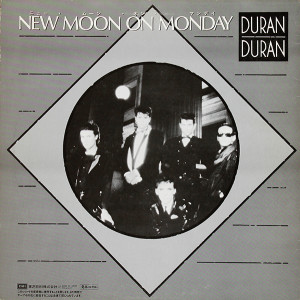 This promotional 12 inch from the United States isn't as rare as the Japanese promo, but it's still a nice piece for any collection. It comes in a stock Capitol Records sleeve with a custom sticker, and it has the single/album mix on both sides.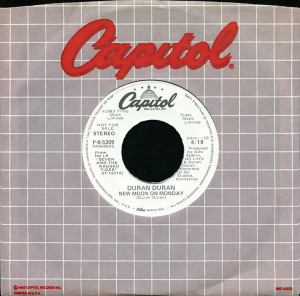 This 12 inch promo of "New Moon on Monday" from Australia is a stock copy, with only a sticker on the sleeve and a stamp on the label itself, a common format for Australian Duran promo records.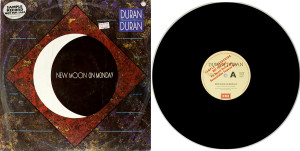 Back into 7 inch singles.. some countries used a different cover to the UK release, such as this Canadian 7 inch, which shares art with the US release.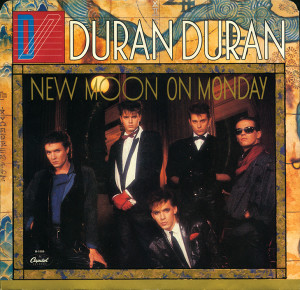 Another interesting 7 inch is this promotional release from Germany, which came with an EMI-Electrola press insert giving information about the single and album, as well as the tour.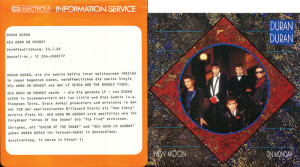 Here's a 7 inch of "New Moon on Monday" from the Philippines that has no sleeve at all, common for singles there, and a big reason finding truly mint records from the Philippines is so difficult.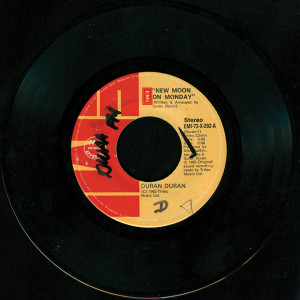 This stock copy of "New Moon on Monday" from Mexico has a lovely translucent sleeve. The fact that so many countries have unique generic label sleeves is one of the most fascinating things about collecting 7 inch singles.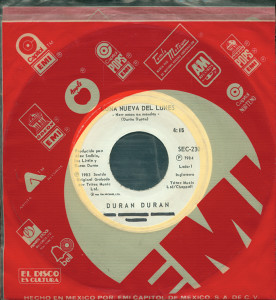 Capitol in the USA has had a multitude of generic label sleeves over their history including this one, common in the mid-eighties. This 7 inch white label promo features the single/album mix on both sides.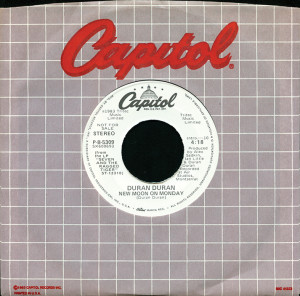 Do you have any fond memories of New Moon on Monday? Buying the single? Or perhaps fire-dancing through the night with your friends?! Let us know all about it on our socials!
Created by Derek Supryka // Edited by Katy Krassner // Pictures by Derek Supryka