Silver Level
$35/Year
---
The SILVER LEVEL – only $35 per year
Access 12 Months of Exclusives including the items below.
---
Full Access to the Duran Duran VIP community

Access to Presale Tickets, tour and show updates, news and more

Access to (limited availability) VIP Ticket Packages (incl. amazing seats, exclusive items) when band is on tour

Exclusive Content JUST for community members including audio band interviews

Monthly Contests to win personal items, signed merch and more

Exclusive interview with an amazing group of people who have worked with the band
---
Gold Level
$89.99/Year + Shipping
---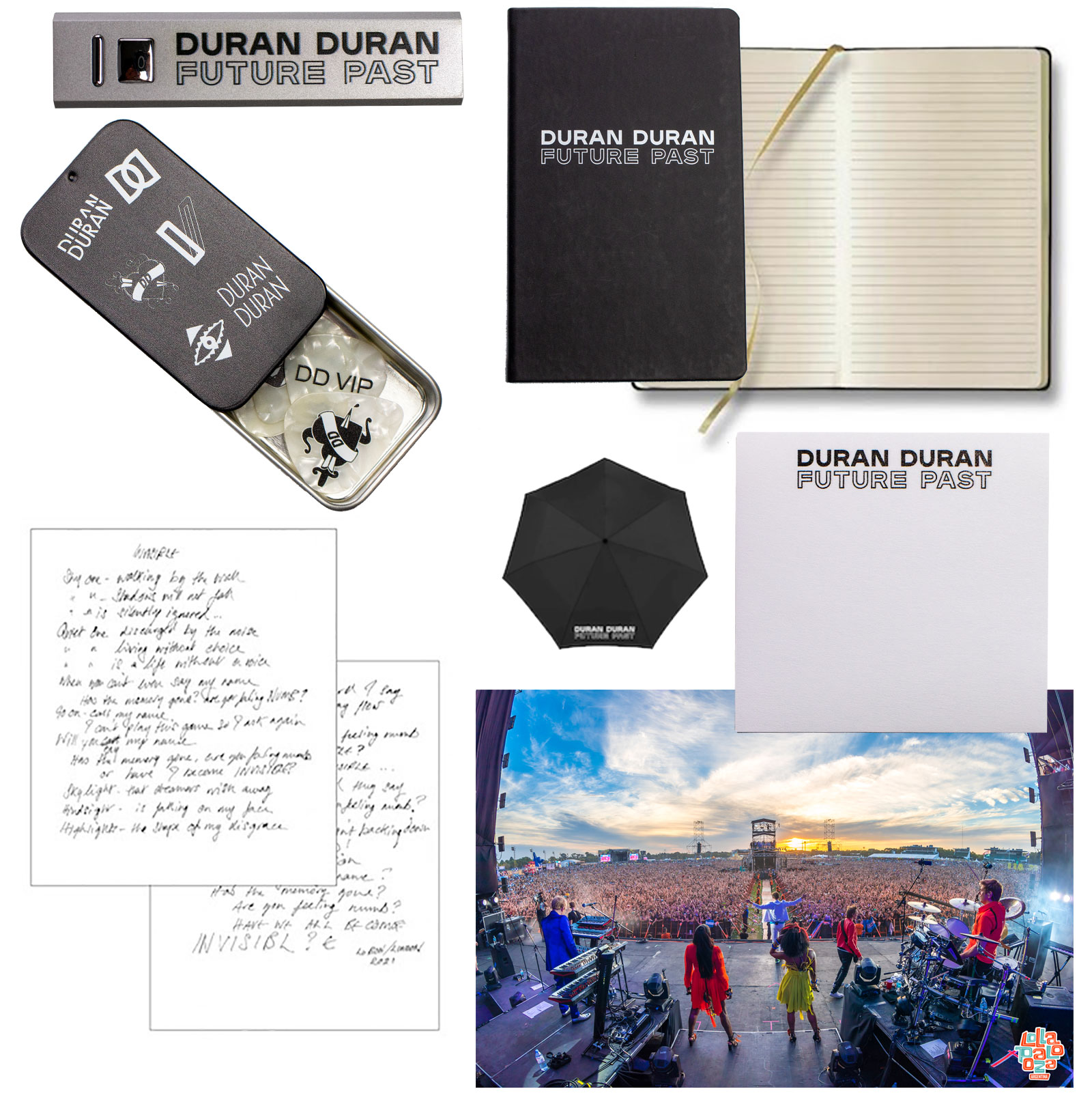 The new Duran Duran VIP Fan Community GOLD package is now available. This is a super-special and exclusive package as none of the items will be available in the online store or at shows. GOLD members receive everything in SILVER (a $35 value) PLUS these EXCLUSIVE items. NOTE: The Power Bank has been replaced by a custom designed Future Past Drawstring bag.
---
All Silver Level Benefits

Custom Duran Duran logo'd guitar picks and DD collector's tin

Exclusive 8"x10" live concert photo

Logo'd Slim aluminum portable power bank/phone charger REPLACED BY DRAWSTRING BAG FOR MOST

Logo'd Totes 44" auto open/close compact umbrella

Logo'd Medium Ivory Slim Journal with 80 lined pages

Logo'd Sorrento Velvet touch ballpoint pen

Logo'd 3"x3" adhesive notepad

Reproduction of lyrics for the song "INVISIBLE" handwritten by Simon
---
* Note: Please allow 6-8 weeks (usually much sooner) to receive your package. NOTE: Power Bank has been replaced by drawstring bag for International Customers
---
If you have any questions, please contact us (choose Fan Club Inquiry on the form)
---