MINT IN PACKAGE!
This month we're showing off the newly released Funko Pop! Duran Duran set. These vinyl figurines were released at the end of 2019, but only became widely available in the last month or so.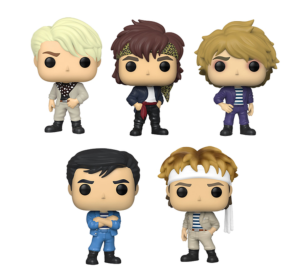 The release of STAR WARS in 1977 changed all aspects of collecting. The toys and merchandise made an impact on kids like nothing before. Before STAR WARS, Mego was the main brand producing toys of popular characters and entertainers, including the World's Greatest Superheroes, Farrah Fawcett, The Fonz, Sonny & Cher and of course, the fave around DDHQ, Parker Stevenson, Shaun Cassidy's co-star from The Hardy Boys!
For decades, collecting as a pursuit evaded the mainstream, generally relegated to specialist shops, the realm of nerds and aficionados. This changed in the 1990s, and collecting became a far more popular pastime.
Duran Duran entered the fray with these Topps trading cards, which were made in the US in 1985. You can see a sealed pack of cards alongside an open pack, and its contents, gum included (but not recommended by your dentist!)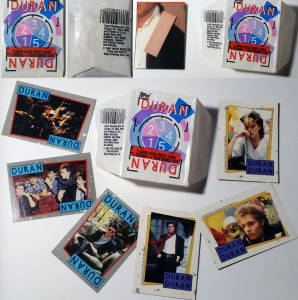 In addition, the band put out a board game - still hard to find and very collectible when it's MIB (mint in box). HQ admits Into the Arena, also from 1985, may be hard to play, but fun to look at!!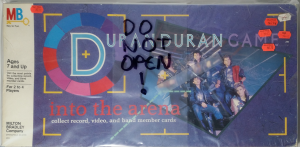 While the band didn't participate in many collectible releases, many people used the band's popularity to 'cash in.' Since loads of kids collected stickers in the 80s (Scratch & Sniff! Googly Eyes! Puffy!), these Duran bumper stickers and puffy stickers were all the rage (if you could find them!)
Don't forget all the Duran Duran badges. No jean jacket was complete without a few of these. There was no cooler way to show which band or singer you liked than with a 'button.'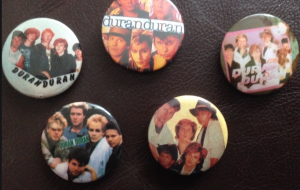 And, ending on a high note, who could forget the fairly horrible DD Mirrors (were they even mirrors?) you could win at Fairs or Carnivals? These were a super score!!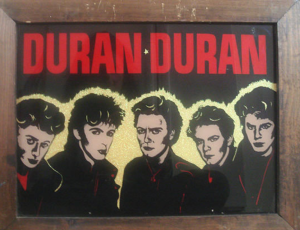 Created by Derek Supryka // Edited by Katy Krassner // Pictures by Derek Supryka