I'LL GIVE YOU TWO BILLBOARDS FOR A CASHBOX
To keep up with trends and events in the music industry, many professionals turn to specialized publications known as 'trade magazines.' This month we're going in for a closer inspection.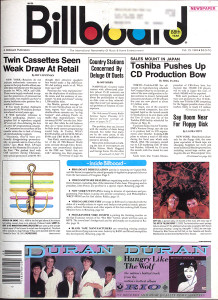 Print magazines first appeared in Europe in the late 1600s or early 1700s, and the first trade journals came into existence in the early 1800s. One of the earliest was THE PAPER & PRINTING TRADES JOURNAL, established in London in 1872 and billing itself as "A Medium of Intercommunication Between Stationers, Printers, Publishers and Booksellers and the Manufacturers." Originally free, it soon switched to a subscription system, and contained adverts, news, product reviews, and even jokes! Soon other trade publications appeared, including one of the music industry's most renowned. Founded in 1894, BILLBOARD's topic was originally bill posters. Their content evolved to cover circuses, fairs, and burlesque shows, until the new technologies of radio, jukebox and phonograph transformed the entertainment industries, and the magazine morphed into what it is today. Advertisements obviously play a big part of a Trade's success; Here's a BILLBOARD magazine ad for the ARENA movie home video release in 1985.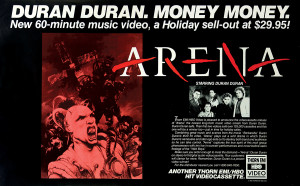 Each issue contains ads, news, and reviews, but the most important feature for execs and industry people is the charts. Though the source of the rankings have shifted as the industry changed, the charts reveal the most popular songs by single sales and radio (and now online) play, divided into genres and categories like Hot 100, Dance, Country, and countless others. This advert is from the cover of BILLBOARD on April 7, 1984.

The United Kingdom has a similar publication called MUSIC WEEK, which dates back to 1959 when it was called RECORD RETAILER. By the early 1980s, it had become MUSIC & VIDEO WEEK, and later MUSIC WEEK. This advert from October 15TH, 1983 is for THE UNION OF THE SNAKE and provides wholesale ordering information at the bottom so store owners in the UK in 1983 could ring up and order the single.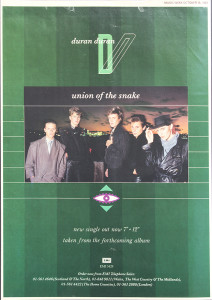 Another chart-tracking heavy hitter in the United States was CASH BOX (later CASHBOX), which started publishing in 1942 as a major competitor to BILLBOARD. Capitol Records placed this ad in July 1981 for DURAN DURAN and THE BROOKLYN, BRONX & QUEENS BAND, a good example of a label trying to maximize their advertising dollar!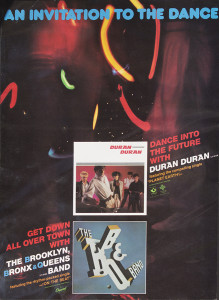 As visitors to duranduran.com may know, on February 24th, 2019 Mark Hollis of the band TALK TALK passed away. A loss for all music fans, Duran Duran was hit hard, as the bands have a long history together. Both were on EMI, and TALK TALK supported Duran on tour before the release of their, debut THE PARTY'S OVER. This advert from MUSIC & VIDEO WEEK from December 12th, 1981 promotes MY OWN WAY and the band's upcoming tour "with "special special guest guest TALK TALK."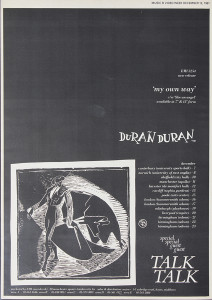 Music industry professionals now have an abundance of opportunities to keep up with this fast moving business. With the explosion of the internet and social media, much of the industry has moved online, and the need for print publications has diminished. However, many of the heavyweights like BILLBOARD and MUSIC WEEK are still in print. The magazines still fill a niche for execs who like their data in hard copy.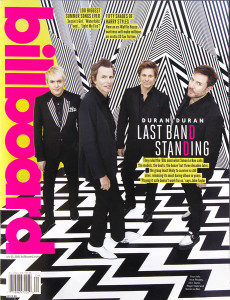 Created by Derek Supryka // Edited by Katy Krassner // Pictures by Derek Supryka