WHAT IS RARE?
Anyone who has ever collected anything has run into the word 'rare' in their hunting for new items. But what does that actually mean? This month we're going to take a look at the idea of rarity and look at some items and see just how scarce they are.
Limited, scarce, rare and uncommon are some of the words you might hear from someone trying to sell you something, so let's try to understand some of the most common issues at play.
In 1984 there were about 56 million people living in the United Kingdom. The top selling single that year was BAND-AID with DO THEY KNOW IT'S CHRISTMAS. That sold a whopping 3.9 million copies in the UK alone. That means that 1 in 14 people in the UK owned a copy. Let's call that a baseline of not rare, or common.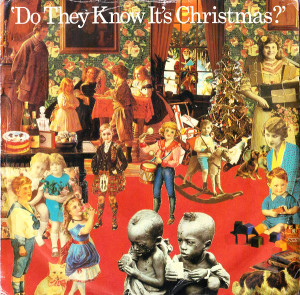 On the other hand, let's have a look at this blue vinyl seven inch of IS THERE SOMETHING I SHOULD KNOW from Record Store Day in 2013. The record was issued on blue vinyl and was limited to a few thousand worldwide. It sold out on most websites and in most shops before the end of Record Store Day. Finding a copy of it new for the price it was sold on April 20, 2013 would be lucky. A quick look online shows it generally sells for around two times the original price or more if you factor in shipping costs. Now we are getting into the spectrum of rare. Let's consider a couple of things that are useful to think about for this or any other item. How many were made? What countries was it issued in? In the case of the blue IS THERE SOMETHING I SHOULD KNOW, the number is unknown. Some record store day products clearly state the number issued, while others do not. Record Store Day, or RSD, started in 2008 in the United States and gradually spread all over the world. By 2013. the reach was global and the releases with stated numbers were generally around two to three thousand for established artists. The ITSISK 7 inch was 'manufactured in the EU' and distributed worldwide,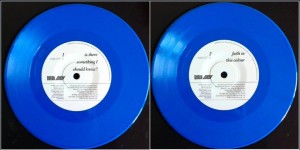 To take it a step further, let's look at the test pressing of the IS THERE SOMETHING I SHOULD KNOW record we looked at above. Now this is actually rare! Test pressings are made before the release for reference, to ensure the quality of the record matches what the band produced in the recording studio. Generally they are only given to the band, the producer, the engineer and the people whose opinions are essential regarding the quality control of the material. Test pressings are generally made in incredibly small numbers, with an average often being less than ten copies. This test pressing is on black vinyl and has unmarked white labels. This is the sort of thing you can say is genuinely scarce.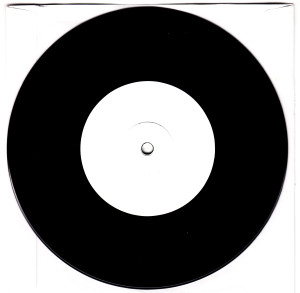 Now let's consider this gold album award for RIO from Canada. This was awarded in March of 1983 and is the first award the band ever received in Canada. The award is presented to DURAN DURAN, which is uncommon. After this award, the awards from Canada are inscribed to the band members individually. We know there were 5 of them but what we don't know for sure is which of the band this belonged to. All of the members were very kind with these sorts of awards, and would often donate them for things like charity auctions and benefits for sick children. You do see them for legitimate sale sometimes, but extreme caution must be used as there are many fakes and forgeries out there, and they can often sell for large sums of money.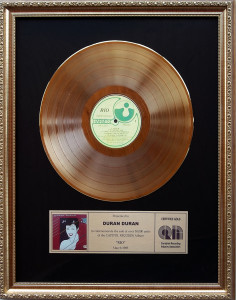 Compare that to other sorts of awards a collector is likely to see, and we can see that even with seemingly rare items like sales awards there is a scarcity curve that we can observe. When an award is presented to one of the band, and it has their name on it, there is only one of each and this is the apex of the collecting pyramid. Everyone wants to own an award that was once owned by one of the band. As we work our way down the line, the number of awards made increases until we get to the bottom of the pyramid. This is where we see regionally issued awards to people working at radio, the record company and other places within the industry where the band or label would want to say "thanks" to a person or organization. In larger cities, this can amount to a bigger number of awards that could eventually make it into the secondary market. Again, as a warning, please beware of fakes and forgeries. These items seem innocuous due to being presented to people outside of the band's direct circle , but they are certainly not immune to dubious activity. Here's an award for Thank You presented to an employee of a Capitol Records subsidiary.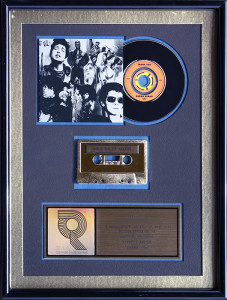 Finally this month, let's end with a few items with only a description and basic details. Comment on our socials to let us know if you think these things are rare or not, and why? Of course if you have any rare items, please share them as well!
Ticket stub from December 23rd, 1981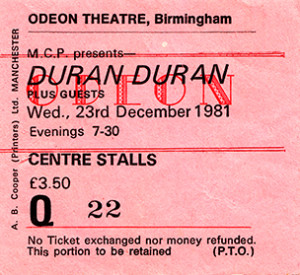 1982 Capitol Records Promotional corkscrew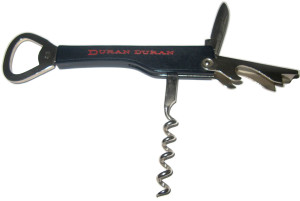 Duran Duran Batteries from Japan, 1983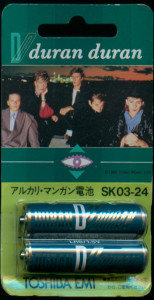 1980 Anyone Out There label from cancelled indie pressing pre EMI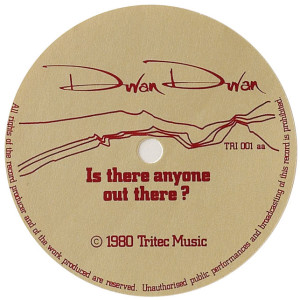 "Would Someone Please Explain?" [Ask Katy book, out of print]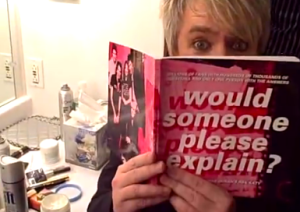 Created by Derek Supryka // Edited by Katy Krassner // Pictures by Derek Supryka