HAPPY BIRTHDAY MR. BASSMAN!
On June 20th, John Taylor had a birthday...so let's treat the bassman to his very own installment of the Collector's Corner! He has had his fingers in many a pie, so there's a lot to go through here!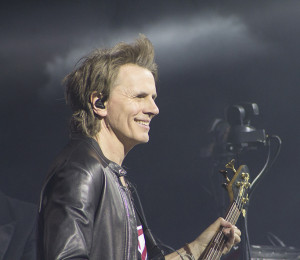 IN THE PLEASURE GROOVE : LOVE, DEATH & DURAN DURAN, John's 2012 autobiography, became a worldwide best seller, and was released globally in several languages.
To promote the book, JT toured the UK, US, Canada, Denmark and Italy, giving readings where he would tell stories and take questions from the audience before signing books. At some events, he'd be interviewed by prominent writers, such as the one he did at the 92Y Tribeca (New York) with Harper's Bazaar Editor in Chief Glenda Bailey.
This pre-press proof set of IN THE PLEASURE GROOVE is incredibly rare, and might be the only one ever made! It was assembled at Manhattan Design by Frank Olinsky as a mock up for a poster based on a photo by Rebecca Blake. You can see the various notes and instructions for the printers written on in red.
Rewinding a bit to the beginning of JT's career, SHOCK TREATMENT was the name of John's first proper band. They formed in the summer of 1977 at the height of the first punk scene. Here's one of the few existing photos of the band.
After SHOCK TREATMENT split, John joined DADA, who had a very exciting 1978, with a Tuesday night residency at The Crown on Hill St, Birmingham. This residency ran though the summer, before JT entered the College of Art & Design at Birmingham Polytechnic. This poster is for 2 nights at The Crown.
Few people know that nearly all of Duran Duran's early graphic design was done by John. Here you can see a page of his early logo designs and variations, dating from just after Duran Duran's live debut on April 5, 1979, when the band was still a 3-piece. By mid April '79, Simon Colley had joined the band and Stephen Duffy had changed his name to Dufait, suggesting this wonderful piece was done between then and the time they both left the band, less than a month later.
Zooming forward to John's solo music efforts, we would have to stop on his first album, FEELINGS ARE GOOD AND OTHER LIES, released in 1997 in the US, and in the UK in 2001. An advert for the album's first issue below.
The band TERRORISTEN was another one of John's side projects from the late 90s. Their releases focused on live performance. A limited cd was released of the May 30th, 1998 show at the Roxy in Hollywood, as well as a dvd of the show from the Key Club in Hollywood on May 3, 2000. This chirashi (handbill) is for the four-date tour of Japan in February 2000.
Not a solo effort, but a fun collectible, this unique playing card from 1987 was made by the Dandy Gum Company from Denmark. John is part of a full deck of 56 (52+4 jokers) called ROCK 'N BUBBLE, featuring other pop stars. No other members of Duran Duran are included.
Returning to music, BASS PLAYER MAGAZINE has always been very supportive of John over the years and selected him to take part in one of their BASS PLAYER LIVE series of events. They made these flyers for the event at SIR Studios in Los Angeles on October 21, 2016.
That's going to wrap up this Collector's Corner, but like so many others, this could never be complete in one posting! Perhaps we will revisit more on JT next year, and in the meantime, share some of your fave JT items and memories on the Duran social channels.
PS - we HAD to include this photo taken by Derek the first time he ever met John in 1988!
Created by Derek Supryka // Edited by Katy Krassner // Pictures by Derek Supryka