THROUGH THE BORDERLINE...
If it's not on your calendar, we're happy to remind you that "Union of the Snake" was released as a single worldwide on October 17th, 1983. The album it came off of, SEVEN AND THE RAGGED TIGER, was released this month (21 November (US) 24 November (ROW)). Therefore, this Collector's Corner will see us going deeper into this single release, starting out strong with this wonderful rarity from the Netherlands. The cassette Maxi Single is an interesting item: a cassette single packaged to have the dimensions of a 12 inch vinyl release. Cassette singles weren't common at this time, though the format took off about five years later, when vinyl started to decline in sales. This extra rare specimen is still sealed in the original shrink wrap, and as close to mint condition as you might hope to find. To top it all off, this was a Netherlands-only release, when the country had a population of around 14 million people, compared to 233 million in the USA. Relatively few were made so it's not hard to see why this piece might be scarce today!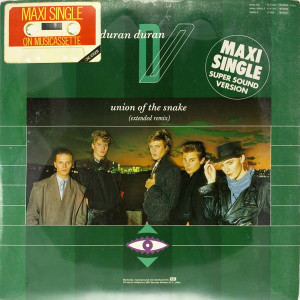 Next up - this UK promo poster for the "Union of the Snake" would have hung in a record shop to advertise the single on its release. Like many promo items, this poster was never meant to be sold, but might have found its way into a collector's home via heavy pestering of record store staff! Once the sales window for a single had ended, staff would replace the poster, leaving what was now essentially garbage to the sole discretion of the record store staff. If you played your cards right, you might have ended up with one this way.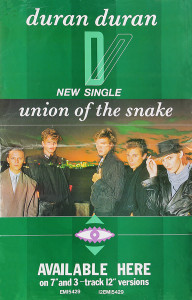 This folio of "Union of the Snake" sheet music from the UK contains a Piano, Vocal, and Guitar arrangement of the song. Before the invention of the phonograph and the commercial record industry, composers released sheet music to the general publicto be played at home as a popular social pass-time. Today, with so many ways to learn music, it's rare for an artist to get a sheet music release the way they would have even in the 1980s. However, most of the major publishers still exist, and sheet music is still very much a thing! In fact the most recent Duran sheet music book release was GREATEST in 2016.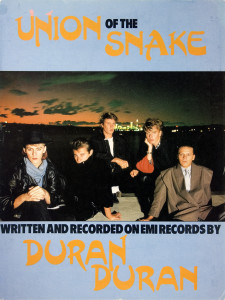 This jukebox 7 inch single from Malaysia is a wonderful example of how western music had started to permeate Southeast Asia by 1984, the time of this record's release. Notice the lack of EMI branding, as the label and its subsidiaries had no real presence in Malaysia at this time. As well, it's a split 7 inch, with a song by Peabo Bryson on side two. Bryson was on Elektra records then, which has no affiliation with EMI. Malaysia was a bit of a Wild West in the mid-eighties when it came to "English" music, which is how this vinyl bills itself on the label!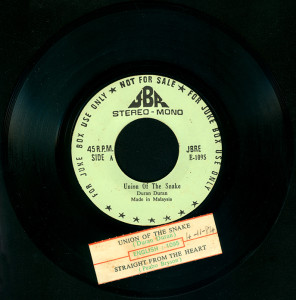 This promotional 12 inch single from the United States has a couple of things worth noting. It's a later issue, a stock copy of the 12 inch. The custom colour cover has been replaced with a generic Capitol Records sleeve. The gold foil stamp in the upper right corner identifies it as being a promo.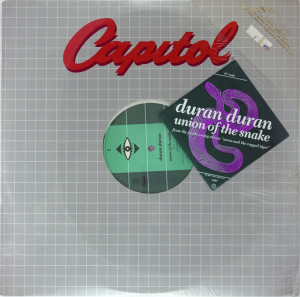 Here's a test pressing of the 7 inch single from Canada. Test pressings are used to check the fidelity of a release before mass production. Copies of this would have been sent from Capitol to top level Canadian label executives as well as the band's management. Mass producing a record for worldwide release is logistically very difficult. The band records only one master tape, which has to be safely and accurately copied to be distributed to the record company branches and then the various pressing plants for manufacturing. Ensuring this process goes perfectly at every step across multiple countries and manufacturers is a real challenge. The test pressing offers a buffer, so the band, management, and label executives can be sure the product is of the best quality.
This promotional 12 inch single from Australia is a stock copy that has been modified by the label to be used as a promo, with a sticker on the cover and a stamp on the label.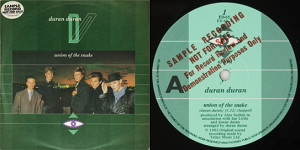 This Japanese promo 12 inch is really hard to find. To promote singles in Japan, Toshiba-EMI issued split promos with popular artists. The flip side of this release is "SAY, SAY, SAY" by Paul McCartney and Michael Jackson, heavyweights in the collectibles scene whose works are always hotly coveted. This tends to drive up the price and rarity of this piece.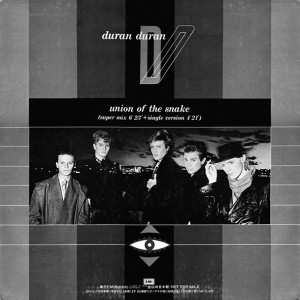 Finally this month, we end up back in the Netherlands. "Union of the Snake" got really nice support from EMI in Holland, and if you purchased the first issue of the 7 inch, it came with a bonus free flexidisc. This disc contained snippets of prior hits and was never commercially available, though some lucky members of the band's Fan Club received a copy prior to the single's release.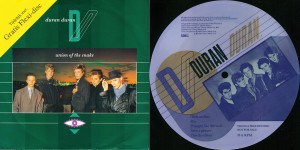 Do you still have a copy of "Union of the Snake" in any format? Let us know about it on our socials!
Created by Derek Supryka // Pictures by Derek Supryka // Edited by Katy Krassner