HOW TO GET AHEAD IN ADVERTISING – PART TWO
This month let's take another spin through the wide world of advertising, last featured over six years ago!
Let's start with this UK ad for SO RED THE ROSE, released on November 18th, 1985. For many fans, this was their first exposure to the artist Tony Viramontes, whose gorgeous paintings adorn the cover and inner sleeve of the album.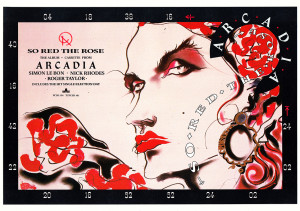 Now let's travel forward to the show advertised here (at the Zenith in Paris, on Monday September 20th, 1993), which was among a run of dates that was postponed or cancelled during the WEDDING ALBUM tour. HQ isn't sure this show took place, so if you have some information, please let us know in the comments.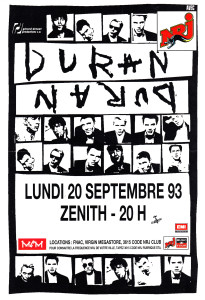 This ad for THE WILD BOYS is for a UK issue of the seven inch single with five different sleeves. This would have run one time only, in a few magazines. A set of the five seven inches is hard to find in good condition, and a mint copy of the advert is just as rare, making this a great pair of collectibles.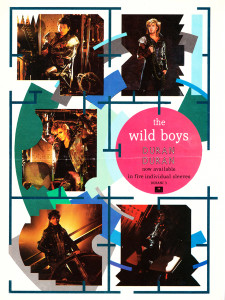 Take a look at this advert for a 1984 Japanese photo book featuring JT. These books are always worth seeking out, since they feature great art work and Japanese photographers, with many images that often never made it out of the home country.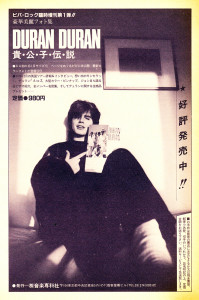 Speaking of Japan, this chirashi, or handbill, from Japan is for the June 2001 tour for Pop Trash, which was Warren's last run of shows. The next time the band played in Japan, it was the reunited five in July 2003.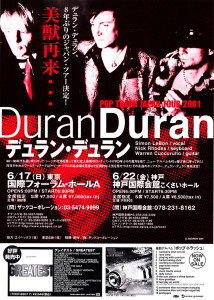 Heading back in time again, this larger size trade ad from winter 1981 promotes MY OWN WAY and upcoming tour dates. At this time, the major music mag players in the UK were NME, Melody Maker, Sounds, and Record Mirror.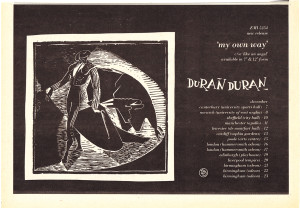 Another cool UK advert: Record Mirror ran this SKIN TRADE advert in January 1987. Record Mirror was like NME and Melody Maker, but in 1982 changed to a glossy magazine format, as a competitor to Smash Hits.This went along with a change of name to RM.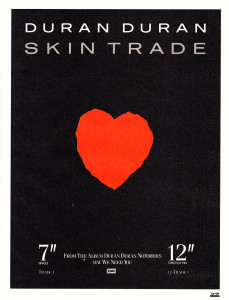 This advert for the release of the band's third album comes from Smash Hits. The record was released on November 21, 1983, so this ad would have appeared just after, as it refers to it already being in stores, rather than giving a release date.
Happy Anniversary Seven & the Ragged Tiger. 36 years of Sundays seems to have drifted right by!! Maybe not in one evening...but it went pretty fast!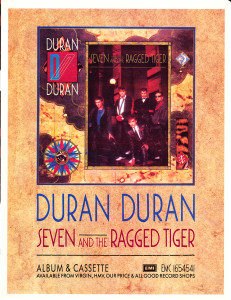 Created by Derek Supryka // Edited by Katy Krassner // Pictures by Derek Supryka