DURAN DURAN
ALL YOU NEED IS NOW
Buy now!
All You Need Is Now - Duran Duran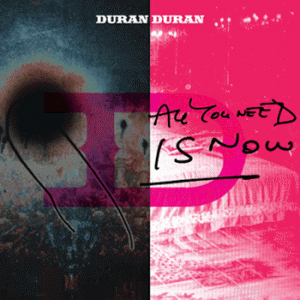 Hype has many purposes in pop music, and a number of predictable characteristics. It seeks to draw attention to strengths, and distract us from weakness; to shape the narrative before we can write our own. And it is often, though not always, about exaggeration: that latest next big thing, that invariably isn't. Ever.
Once in a blue moon, though, the hype is no exaggeration. There are no weaknesses to cover up. The narrative doesn't require smoke and mirrors. You are, instead, presented with something irrefutable, something so good, it soars above the hubbub of self-promoting chatter and simply arrives on the scene fully-formed, its impact instantaneous, its brilliance undeniable. We all own albums and singles that have had that effect on us: which we know, within seconds, are records that will soundtrack our lives and come to define the staging posts of our journey. ALL YOU NEED IS NOW is one of those records. Duran Duran, a band with more era-defining songs to their name than most, have, on their extraordinary new album, reconnected with the sounds, the textures, the melodies and the lyrical evocation that first propelled them to the top of the charts the world over. The result, produced by Mark Ronson, already sounds like a classic. Exaggeration? Big claims demand solid justification, certainly. And the new tracks on this, Duran's 13th studio album, provide it. That is not hype, it is fact.
You listen to new songs such as Girl Panic !, Blame the Machines, Leave aLight on, the Man who Stole a Leopard, Other People's Lives, Being Followed and the title track, and find yourself thinking: where have these songs been hiding? They sound both instantly familiar, and powerfully new. And then you talk to the band and consider Mark Ronson's remark, as they gathered for the first sessions. "I want," he said, "to make the imaginary follow-up to Rio; the album that was never made." That's setting the bar high, for sure. But they cleared it – with room to spare.
It didn't hurt, of course, that Mark Ronson has been, since childhood, an avid Duran Duran fan. Moreover, as the band themselves admit, they had reached a point creatively where they knew there was something missing, and that they wanted to set about trying to relocate it. So, when fan and band convened in the latter's small recording space in south London last year, everyone involved was determined to engage in that search.
"One of the things I like about this record," says Simon Le Bon, "is that it's unselfconsciously pop, it's catchy without trying to be. To me, this sounds like an alternative album – and that's what we were successful for in the first place. Mark just said, 'Relax, and you'll find it'." The producer recalls his delight that, within only a couple of hours of working together, it was clear that they were onto something. "Sometimes there can just be an energy in the studio, where everybody is thinking the same thing and wanting it to be the same way – andthat happened that first day."
Nick Rhodes is in no doubt about the importance of Mark's contribution. "He revitalised us," he says. "He found an energy in us that hasn't been there for a long time. Inspiration is one of the great mysteries of the world, of course, but if you have with you someone you trust, who has huge musical knowledge across so many genres, who is a fan of your band and knows all of the songs – that can only be helpful."
Mark Ronson still pinches himself when he recalls sitting in the studio with the band, and hearing their classic sound reassert itself. "If you're really connected with them you just know when Simon hits a certain note; you know harmonically when something is just instant Duran Duran, the keyboards, the sequencing, the melody, the rhythm, the way that John and Roger play together. So you sort of know at once what that next turn should be, what feels right. And it just kept falling into place."
All four of the band describe the sessions as a journey of rediscovery and creative liberation, where they worked painstakingly on the songs and the sounds, eyeballing each other in that cramped space, and recording the tracks, at Mark's insistence, in real time, from start to finish – no computers, no fakery. "It felt like going back to day one," says Roger Taylor, "and maybe that was all part of Mark's master plan: to really take us back to how we first wrote songs, in the Rum Runner in Birmingham, in a funny little room at the back of a night club." John Taylor agrees. "Mark was really keen to get back in touch with the band's original ethic," he says. "He brought an authenticity to the band's sound that, quite honestly, had been missing. This time round, we needed someone to say, 'What was that amp that you used on Rio?' And as corny as that sounds, I needed a producer to make me feel like that was significant." Roger adds: "One of the first things Mark said was, 'You need to go back and recapture your ground. You know, everybody else is there, why aren't you? Everybody's using the funky bass, the synths, the hi-hat, the sequencers. Go back and reclaim that'. And that became a sort of manifesto for this album."
ALL YOU NEED IS NOW is a record, says its producer, "that sounds more energetic and youthful and vibrant than any other band I can imagine of their age making".
But let's not just take Mark's word for it. Let's allow the songs to do the talking. Listen to the way that the title track's chorus emerges out of a hard-hitting verse and at once claims classic Duran status; to Simon's career-best vocal on the verse to Leave a Light on, one of the most tender and beautiful songs the band have ever written; to the sepulchral strangeness and menace of the Man who Stole aLeopard, featuring Kelis, a track that harks back to the band's avant-garde roots in songs such as The Chauffeur; to the pop punch and sleaze of Girl Panic !, a song so hard-wired into Duran's imperishable sonic DNA, it's hard to believe you haven't heard it before; to the loose-limbed New York funk of Safe (in the heat of the moment), with its snarling, provocative rap from Scissor Sisters' AnaMatronic; to the way that Simon's voice glides above the unmistakable sound-bed of Nick's keyboard architecture and the utterly distinctive rhythmic one-two that is John and Roger on Blame The Machines; to the it-could-only-be-Duran harmonies that punctuate the whole album. And then, go back and listen to them all again. No wonder, I'm sure you'll agree, that Mark Ronson describes working with his idols as "a privilege", and the results as "jaw-dropping". It is no exaggeration, no hype, to call ALL YOU NEED IS NOW the missing piece of the Duran Duran jigsaw. A record that will shortly be soundtracking our lives. It's that good, and that significant.