It would be hard to talk about era-defining fashion without mentioning Duran Duran. From head scarves made out of fabric scraps to rolled-up blazer sleeves à la Miami Vice, the band's members — which included Simon Le Bon, John Taylor, Roger Taylor, and Nick Rhodes — were responsible for some of the most imitated trends of the '80s and '90s. "Style has always been very important to us," says Duran Duran frontman, Simon Le Bon.
"It never mattered to us which season something comes from, it's about individuality, as well as what worked collectively for us," adds Nick Rhodes, founding member and keyboardist. Often waving the flag for British designers — be it in tailored Antony Price suits for their promo shoots in the early '80s, a Vivienne Westwood waistcoat from her Montgomery suit in the "Too Much Information" video (1993), or experimental pieces made out of upholstery by Central Saint Martins designer Fee Doran in "Perfect Day" (1995) — the band always looked suitably put together. And who better to talk through their most memorable looks than the members themselves?
Ahead of their new album release on 22 October, British Vogue caught up with Simon Le Bon and Nick Rhodes on some of the band's best fashion moments from over the years.
Band portrait by Michael Putland, 1981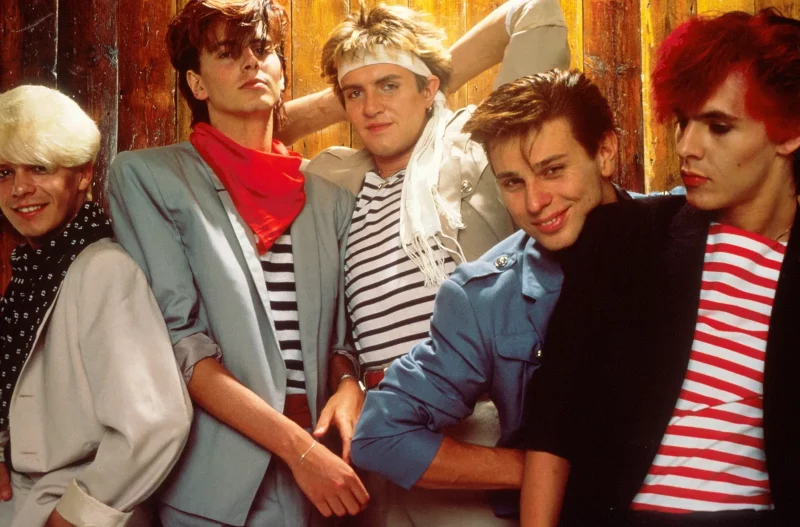 Nick Rhodes: "All of our suits are by Antony Price and the rolling up of the sleeves was rather controversial. Antony, initially, was mildly horrified. But then a few months later he said, 'Actually, it's a new look'. Then, Miami Vice famously took the look from us."
Simon Le Bon: "We were playing a show at Newcastle City Hall and it was a steaming hot day and Roger had an idea where he picked up a towel, tore a strip and tied it around his head to stop the sweat from getting into his eyes. I thought it looked great, in a Jimi Hendrix sort of way, so I did the exact same. We wore it on Friday night and by Monday all of the kids were wearing it on the street."
Promo shot of the band by Fin Costello, 1983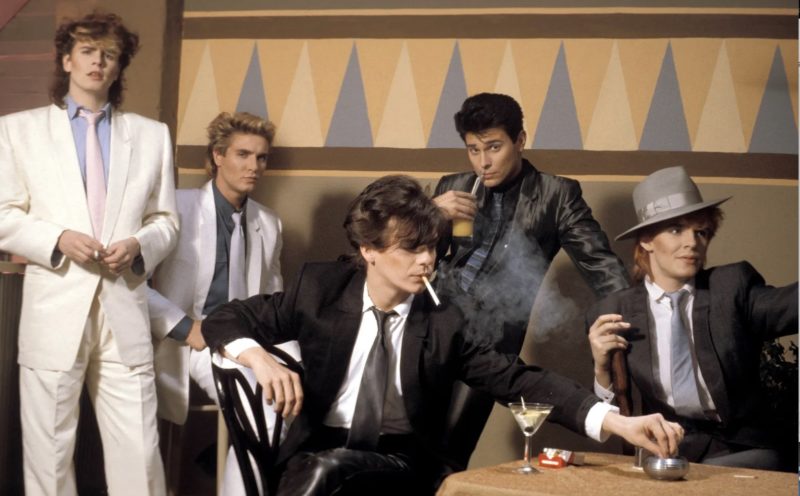 Simon: "Antony Price, those are the two words that matter in this picture."
Nick: "David Bowie was a great style icon for everyone from our generation, so I certainly would confess to it being a little in that direction. The red hair is almost Young Americans red, which is never a bad thing for me, and yes, fedoras were perfectly acceptable in the '80s. I might consider one again."
"Ordinary World" music video, 1993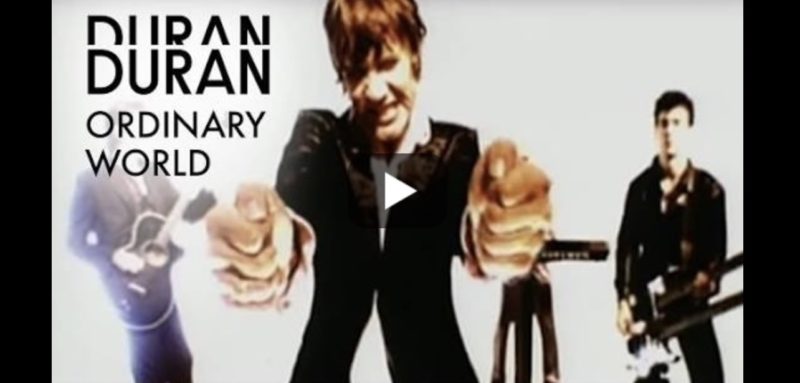 Nick: "This one was with Peter Sidell [stylist and curator of London shop The Library 1994], who asked us all what we wanted, and then brought in specific tailors to make pieces based on our ideas that were led by his direction. In the studio shot, I wore a silver satin suit that was beautifully cut and had flares, which in 1993 was sort of unheard of."
Simon: "In the garden scene, I'm wearing a Halston suit. [In] the studio shot, I was wearing a black crushed velvet suit that was organised by Peter. Warren [Cuccurullo, who joined the band in 1986] has a bit of Vivienne Westwood on, because he loved her during that period."
"Too Much Information" music video, 1993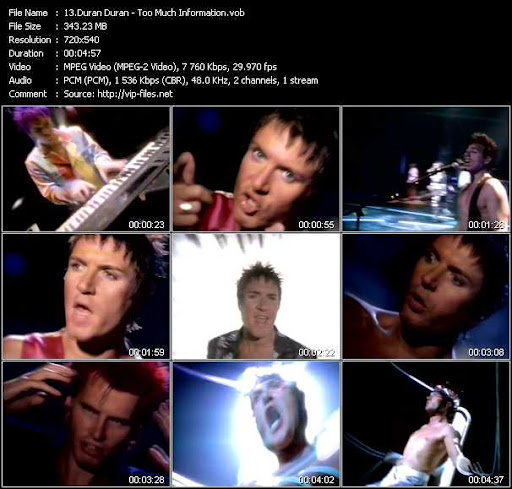 Nick: "A lot of Vivienne Westwood here. We've always loved her, she's been amazing since the punk days and all those incredible pieces they made at Seditionaries [the 1976 name for Westwood and Malcolm McLaren's rebranded SEX boutique]. I think the mid '90s was a golden era for her."
Simon: "My waistcoat is from one of her suits, my silver leather cargo pants, again, Fee Doran [her label was later known as Mrs Jones]. I think John's wearing Vivienne, as well. We were lucky to be making records and doing shoots at the same time as her rise during that period."
"White Lines" music video, 1995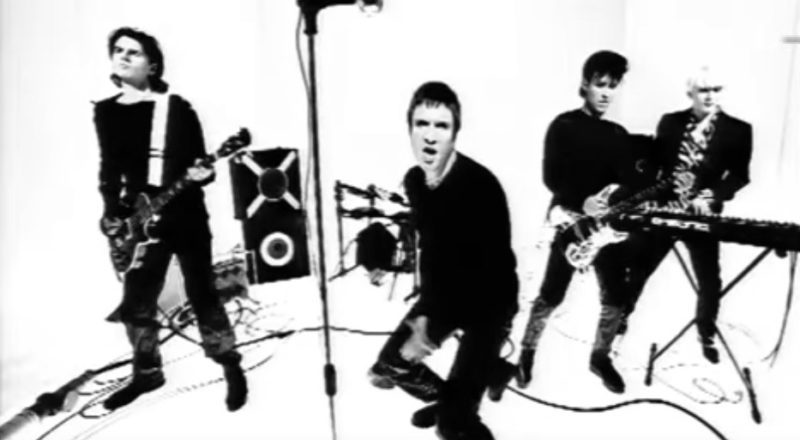 Simon: "Everything we wore here was by Fee Doran."
Nick: "I found her at Central Saint Martins, some of our very first looks came from there. I still have some of it now. The school set a competition for the class to come up with some designs for a rock band, and we got some amazing pieces from the students."
"Perfect Day" music video, 1995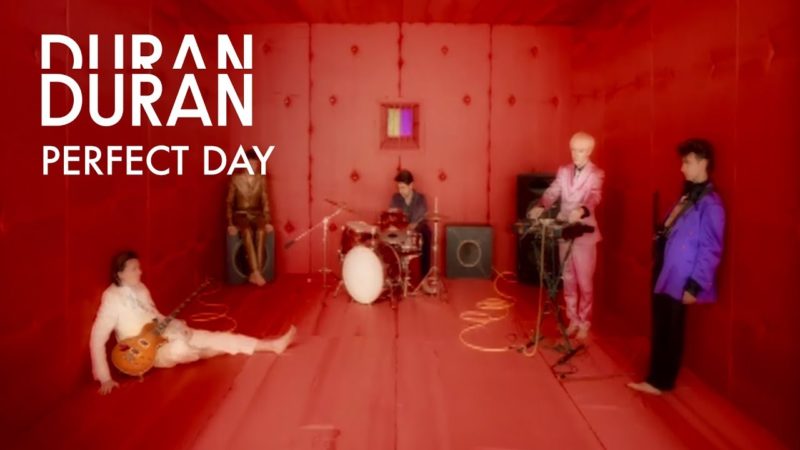 Simon: "Fee Doran made this gold suit for me out of upholstery fabric. It was difficult to move in, as it was quite restrictive, and it had a mind of its own, as if it was trying to turn back into a car seat the entire time that I was shooting the video."
Nick: "It's a good job it was a slow song! Fee was very inventive, she was very happy to use any type of fabric and make it work. The inspiration for my pink suit came from one of Mick Jagger's suits in the '70s."
"Last Night in the City" live performance from the Paper Gods tour, 2015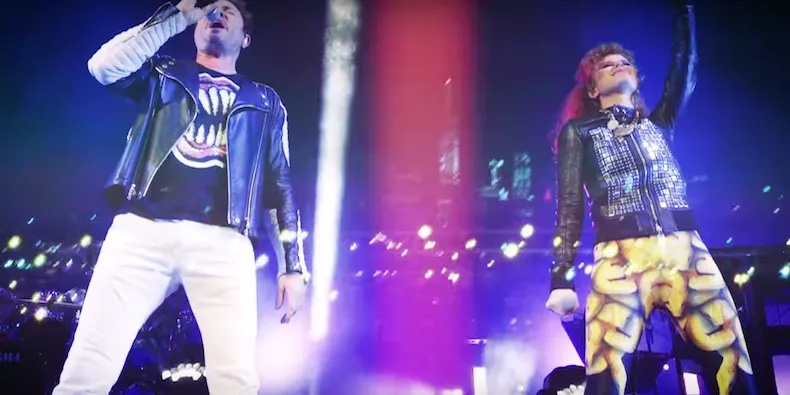 Simon: "My jacket is by Balmain and I'm wearing it with a Duran Duran T-shirt and G-Star white jeans."
Nick: "I wore a special Alexander McQueen jacket that looked like that of Pearly Kings and Queens. I don't think anyone would argue that he was the greatest British designer of his generation."
Duran Duran's new album Future Past is out now and available on duranduran.com.
BY ALEX KESSLER
Courtesy Vogue UK