Nick Rhodes has told SuperDeluxeEdition he wants Duran Duran to release a deluxe edition of their Liberty album – and revealed he and John Taylor recently rediscovered "three or four" songs from the sessions of their third album, Seven And The Ragged Tiger.
Meanwhile, Rhodes also discussed plans for the band's next new album, which will follow 2015's Paper Gods.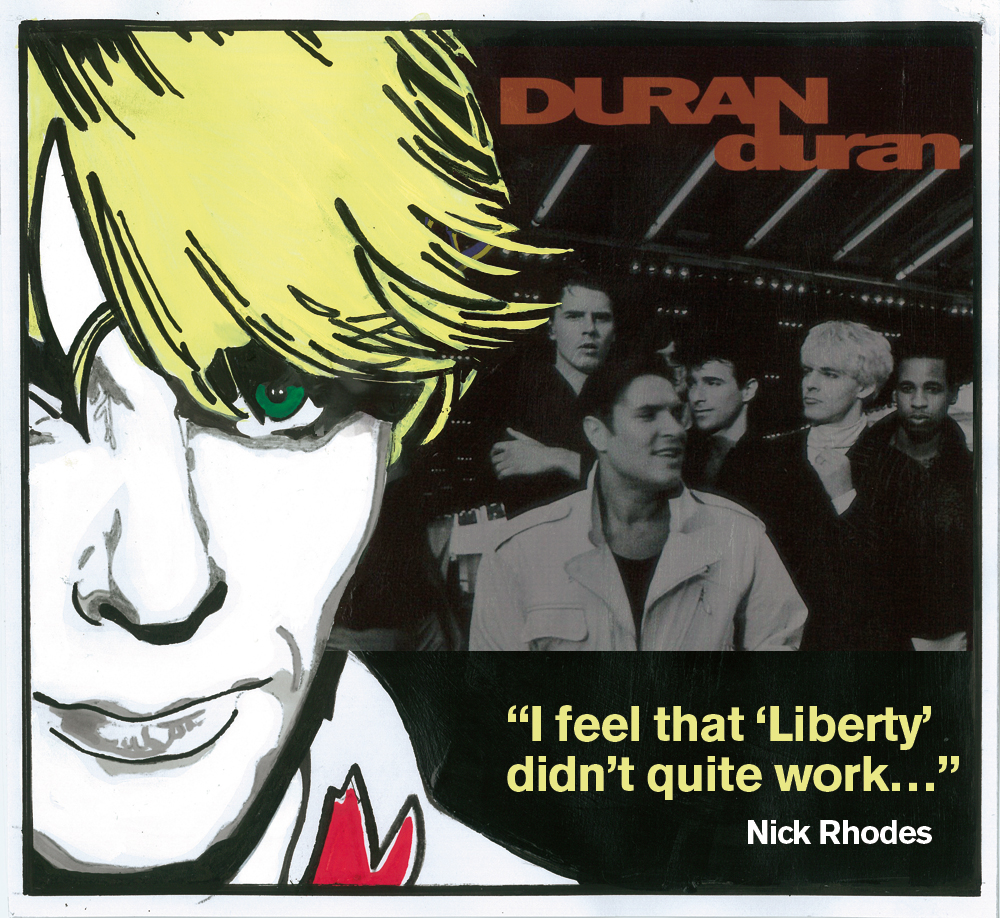 Talking to SDE around the 35th anniversary of Arcadia's sole album So Red The Rose [stay tuned for an interview to be published later this week], Rhodes discussed his and Duran's attitude to reissues in general. Nick said he's a fan of deluxe editions, but only if "it looks like the artist wanted you to hear them".
Rhodes cited 1990's Liberty as the Duran album most in need of the deluxe treatment. He explained: "There's a lot of things in the Duran catalogue that John and I have been talking about revisiting. What we do with them and how we do it, I don't yet know, but we're threatening to one day do the proper version of Liberty."
Produced by the band with Rolling Stones associate Chris Kimsey, the album reached number eight in the UK, housing the singles 'Violence Of Summer (Love's Taking Over)' and 'Serious'. It has never been reissued, but the popular 1999 bootleg Didn't Anybody Tell You includes six officially-unreleased songs from the Liberty sessions. Admitting that some of those unreleased songs are better than tracks which made the album, Rhodes said: "Of all our albums, Liberty is our most un-realised. That's not anyone's fault. It's due to timing, circumstances, our vision of where we were and what music was like at the end of the Eighties. A lot of the songs we recorded during those sessions are way better than how the album ended up. It would be interesting to revisit those tapes and pick out some of those other songs which were better."
Rhodes said he was partly to blame for the finished album's poor song selection, commenting: "When we made the record, it didn't feel wrong. We had great fun with Chris Kimsey, who I'm enormously fond of. Chris Potter, our engineer, went on to produce that fantastic song 'Bitter Sweet Symphony' for The Verve, so I guess he must have come out of those sessions with something. But I just feel that Liberty didn't quite work. It was a strange time in my life, and I perhaps blame myself for it not working a bit. I'd taken my eye off some of Liberty a little. I love some of the sounds of Liberty, but I don't think we made the right song selection. I was in the middle of personal issues, such as my divorce. Sadly, those things do affect your creativity, and Liberty is an album I really would like to go back into."
Rhodes went on to discuss the long-mooted Duran Duran boxset, which he and John Taylor have been talking about since Duran's only expanded reissue campaign. Two-CD deluxe editions of Duran's first five albums – Duran Duran, Rio, Seven And The Ragged Tiger, Notorious and Big Thing – were issued in a flurry of activity between 2009 and 2010 and Rhodes revealed: "We've been going through some of the old tapes for the anthology that we're planning at some point. We found three or four songs from the sessions from our third album that I didn't even know about. We'd completely forgotten about those songs because everything was such a whirlwind at the time."
Seven And The Ragged Tiger was recorded at Air Studios in Montserrat with producers Alex Sadkin and Ian Little, but these unreleased songs date back to the initial sessions for the album. Rhodes said: "We'd started recording Seven And The Ragged Tiger at RAK Mobile, which we parked outside of a chateau in the south of France. We pretty much scrapped everything from that time and these songs we've found aren't finished. But some of the things that crop up, I think "Yes, these deserve to be finished."
Explaining his attitude to deluxe editions, Rhodes said: "As a fan, I always love to hear outtakes. I had The Beatles' Black Album [a bootleg] long before those alternative sessions ended up on the anniversary edition of The White Album, for instance. But the way I feel is, if they're artist-approved I feel a lot better about owning them. If the artist intends you to know 'This is a demo', that's OK. An artist's process is fascinating and I love deluxe versions of things when they're really well done and, more importantly, curated properly."
Duran have been working on their new album with producers Erol Alkan and Giorgio Moroder, as well as Mark Ronson, who co-produced Paper Gods and its predecessor, All You Need Is Now. It features Graham Coxon as guitarist, with other guests including Lykke Li. Asked about plans for its release, Rhodes said: "We'll finish it this year, but I just don't know with everything happening right now as to when it'll come out. Before the pandemic, it would have been out this year. It's not that we want to withhold anything from anybody, but we like to support the record by playing shows."
The band are confirmed to headline Isle Of Wight Festival and the new Lytham Festival next year. They were also due to have headlined British Summer Time at Hyde Park this year, a concert which might be rescheduled for next summer. With the uncertainty surrounding festivals, Rhodes said: "We very much hope to be able to play our shows next year, but we don't know what's going to be happening, so how do you promote an album now? There's lots of things people are doing online and we're all getting used to Zoom, but I just don't know what's right for us. We can't even do television interviews, or interviews in person. We most certainly hope to put the record out before next summer, but I just don't know."
Courtesy superdeluxeedition